6 Tips When Buying New Garage Doors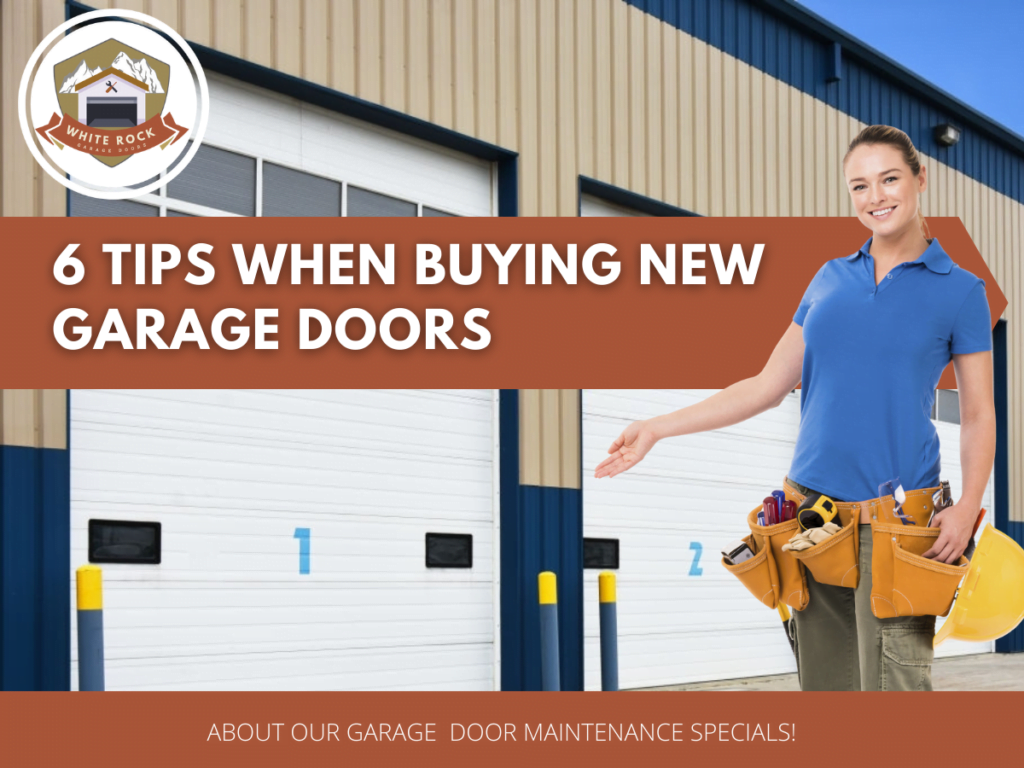 Garage doors are a significant expense – it's not something you buy every couple of months. And if carefully maintained, new garage doors are meant to last for years. So, it makes complete sense to learn the ins and outs of buying new garage doors. You'll get the best bang for your money, and you'll be steering away from cheap, non-durable doors!

Here are a few essential considerations before you make your final garage door installation choice:
Get Your Estimates In Person
Most garage door companies offer quotes via phone or email. While you could get a ballpark cost for repairs, garage door installation is a little different. A thorough check of your garage is vital to set measurements and decide which type of doors suit the space.

A conscientious sales staff will check details such as shape, doorway opening, headroom, side clearance, and what type of external elements could potentially affect your new doors. Every garage will be unique, and you may struggle to convey all this information through email or phone calls.

Therefore, make sure the sales staff can check your garage in person before providing a quote. New garage doors vary widely in cost, so an educated estimate can give you a more accurate idea of what costs you'll shoulder.
Invest In Quality Springs
Garage door springs do most of the heavy lifting – these parts make the heavy doors move up and down in a controlled manner. They counterbalance all the tension from the door's weight, making them one of the most critical parts of the garage door.

The typical garage door spring is a torsion tube – these thick, coiled torsion springs are placed above the door. While most torsion springs are guaranteed to work for about 10,000 cycles (up-and-down motion), that may not take too long to wear out. Especially if you have a busy household, you could easily operate around 4-6 cycles per day. Spending a few extra dollars to boost the rating of your garage door springs could give your new unit more longevity.
Get A New Garage Door Opener
Let's face it: most of us want to save as much as possible. And this applies to purchasing new garage doors as well. But if you decide to skimp on the garage door opener, it's likely to give you problems after a few months. That's going to be a big hassle – a malfunctioning garage door opener will make the garage hard to access (or get your car out!)

So instead of waiting for your opener to give out and call for a separate garage door opener fix, get a new opener to go along with your new garage doors. You may even get a discounted package on the new doors and opener.
Garage Door Materials Have Pros And Cons
One of the most exciting parts when choosing new garage doors is picking the material. But there's more to it than visual appeal – different materials have different features.

For example, real wood doors look spectacular and have that authentic tactile feature, but they require more upkeep, like recoating. Meanwhile, steel garage doors are cheaper, but they lack insulation capabilities, and they only fit a particular look of a home.

The good news is there are composite materials that go for a fraction of what natural wood costs. These composites are more durable and aren't as high maintenance while still looking like wood garage doors.
Don't Skimp On Insulation
Insulating garage doors is still up for debate in some climates, but generally, a well-insulated garage door is a proper choice when you're residing in an area with four seasons. In addition, insulation can be a big benefit if the garage is attached to your home or there is a living space or room over the garage room. It regulates indoor temperature and protects the garage door panel, and minimizes noise crossing different rooms.

Insulation add-ons could range from $50 to $600 – and there are different R-values to test the efficiency of the insulation. A thin polystyrene sheet may do in temperate conditions, but double or triple-layer polyurethane insulation can improve your interior temperature and save you on power bills.
Garage door windows add a lot of functional and aesthetic advantages. It brings natural light in, preventing the garage from feeling dingy. It's also a visual interest on your overhead doors. The key is to choose the right window inserts.

A good design hack is to have the same glass style on your garage doors as what's on your house windows to make everything look consistent. And if you want windows but don't want to compromise on security, install the glass in the top panel, and get frosted windows. Lastly, if your garage is heated, invest in insulated glass for the windows.

If you're overwhelmed with design possibilities, don't settle for guesswork. Check design software on garage door brands to choose styles and combinations. Play with it until you find the right garage door specs and show your local garage door installation company.
Buying New Garage Doors? Let Us Help!
If you're in the market for new garage doors, you need a professional garage door installation team to help you. Our garage door technicians have decades of experience installing new garage doors and customizing garage doors for homes and businesses.

Talk to us if you want to learn more about garage door installation and how to decide which new garage doors to purchase.